About EMR Construction Services
EMR's construction professionals provide government and private sector customers with an extensive range of services and solutions for projects of varying scope, budget, schedule, and complexity. We focus on providing leading practices for project management, construction techniques, subcontractor management, health and safety, quality assurance and quality control, and other issues affecting construction projects, ensuring that we provide our customers with an interactive approach that minimizes project risk and schedule delays while increasing value and customer satisfaction. EMR's construction services include:
Design-Build 
— Complete range of professional services on projects large and small, from concept through commissioning.
Construction Management
 — Successful project delivery based upon proven systems for team building, procurement, scheduling, field oversight, quality control, and safety.
Vertical and Horizontal Construction
 — Diverse project experience in commercial and government building construction, roads, dams, and other civil works.
Renovation
 — Complete interior and exterior renovations, major additions and conversions, HVAC, electrical and energy system upgrades.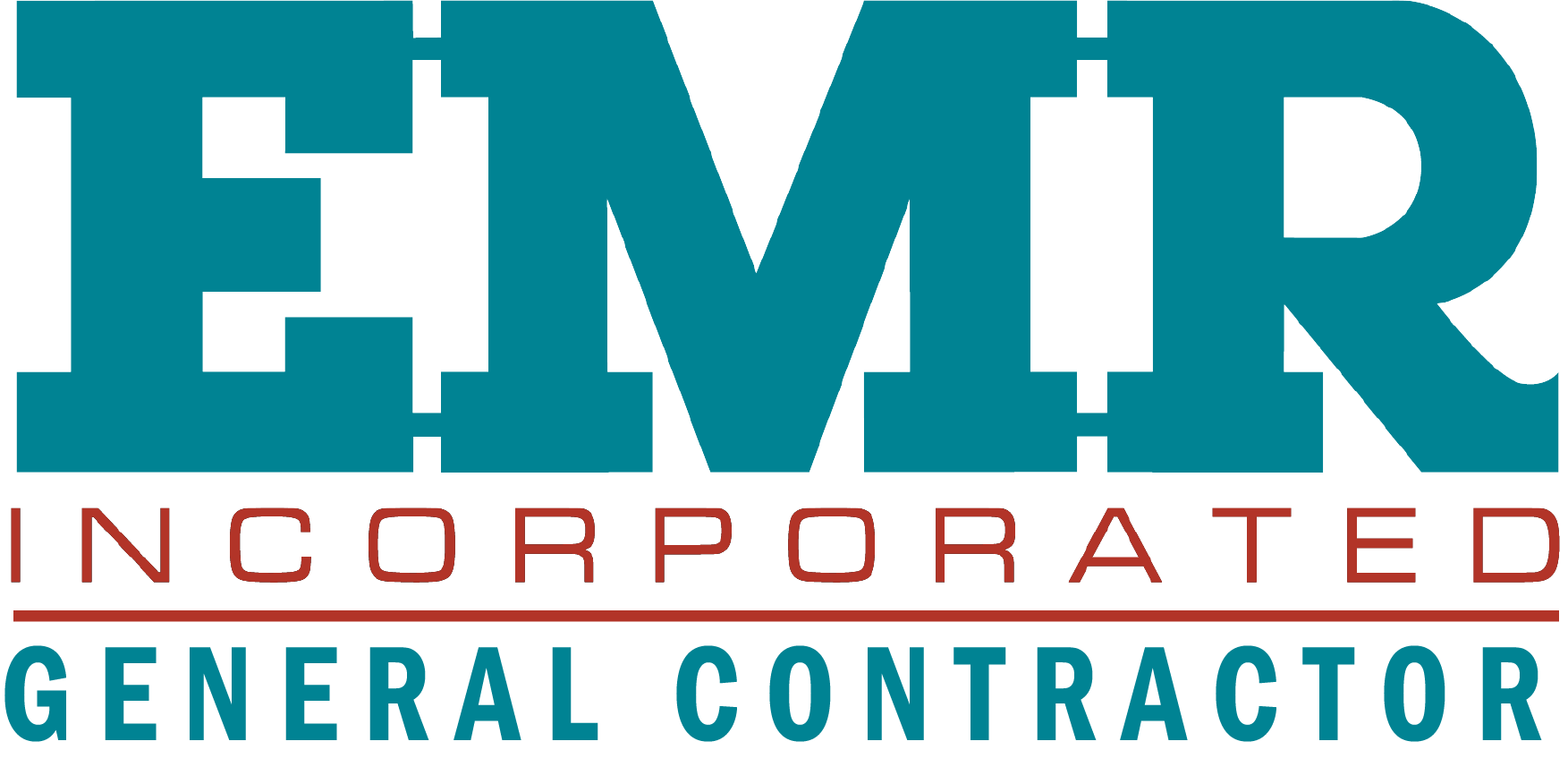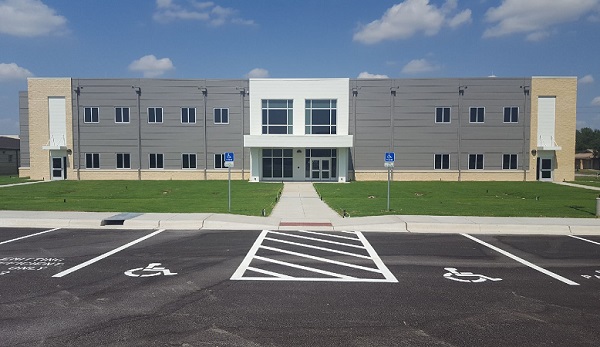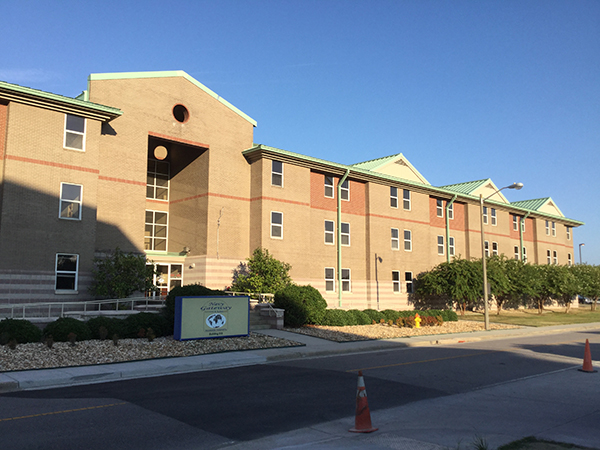 Sampling of EMR Construction Projects
Q4 Repairs to Corry "A" School BEQs 3707 and 3708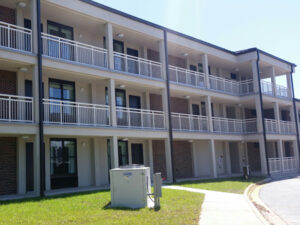 Q4 Repairs to Corry "A" School BEQs 3707 and 3708
Corry Station, NAS Pensacola, FL
Client: NAVFAC Southeast
EMR received the task order to renovate Buildings 3707 and 3708 at Corry Station (52,500 square feet), which is the Navy's Center for Information Dominance (technical training center). These buildings are part of a complex built in 1975 that consists of 10 buildings, 3701 through 3710. Buildings 3707 and 3708 house 192 "A" School students. Building 3707 is a three-story Bachelor Enlisted Quarters (BEQ) providing (49) 2+0 Quarters with 98 berths. Similarly, Building 3708 has three stories and provides (47) 2+0 Quarters with 95 berths.
The project included the interior demolition and renovation of each building to accommodate the Navy layout for the 2+0 BEQs. The interior partitions were reconfigured to meet the program space requirements and have new interior finishes. Modifications were made to the exterior brick and stucco facade for the installation of new doors and windows. A new walkway was added on three sides of each building to allow access to the quarters from both sides of the building. The existing stairs were replaced with freestanding stair towers to meet current code requirements. A new structural framing system was built to support the new walkways and a new sloped standing seam metal roof was constructed. The renovation required structural modifications, installation of HVAC, electrical, plumbing, fire protection, and security systems.
Construction of Robotic Coating System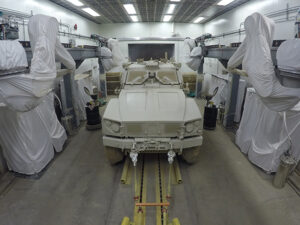 Construction of Robotic Coating System
Red River Army Depot, Texarkana, TX
Client: NAVFAC Southeast
EMR was awarded a task order to design and build an automated vehicle coating application system for two vehicle types. The system had to be fully automated to convey the vehicle into the paint booth, apply a primer coat and then a finish coat of paint to a minimum of 80 percent of the vehicle surfaces, and then convey the painted vehicle to the drying oven.
EMR demolished the existing floors in the paint booth, drying oven, and approaches on both ends to accommodate the installation of the underfloor vehicle conveyance system. The required reinforcement steel and edge steel, as designated in the structural drawings, was installed prior to the installation of the tracks. Electrical systems included a master control panel, robot control cabinets, conveyor control systems, hazardous location wiring systems located inside the paint booth, interface with the building's 480-volt power system, fire alarm system, building exhaust systems, and automatic door control systems. The communications and instrumentation systems included both pneumatic and electrical components. These control systems interconnected the conveyance, coating delivery, robotic systems, and the existing building exhaust, fire control, automatic door systems, and the electrical and pneumatic systems. The two-inch pneumatic piping system included automatic air drying and instrument air systems supporting the robots' operations and the delivery of the coating materials to the robots.
Replace Fuel Pump House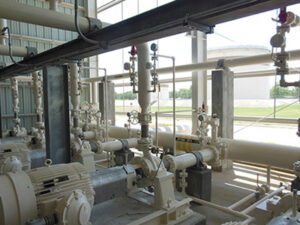 Replace Fuel Pump House
Barksdale AFB, LA
Client: NAVFAC Southeast
EMR was responsible for the demolition of the existing pump shelter and support structures, construction of site improvements and infrastructure, and installation of a new Fuels Type III hydrant pump house (Pre-Engineered Metal Building) with a bridge crane and five 600 gallons per minute fuel pumps and filter separators. The project included a product recovery system, surge suppressors, HHT check-out station, 8-inch and 16-inch tie-ins to the existing hydrant system, control system, motor control, and programmable login controls center, manual transfer switchgear for the existing generator, and all utilities.
NAICS Codes
236210 – Industrial Building Construction (SB)
236220 – Commercial and Institutional Building Construction (SB)
237110 – Water and Sewer Line and Related Structures Construction (SB)
237990 – Heavy and Civil Engineering Construction (SB)
238220 – Plumbing, Heating, and Air-Conditioning Contractors
238910 – Site Preparation Contractors
541330 – Engineering Services
541620 – Environmental Consulting Services
561210 – Facilities Support Services (SB)
If you have any questions or would like any additional information please click the button below.