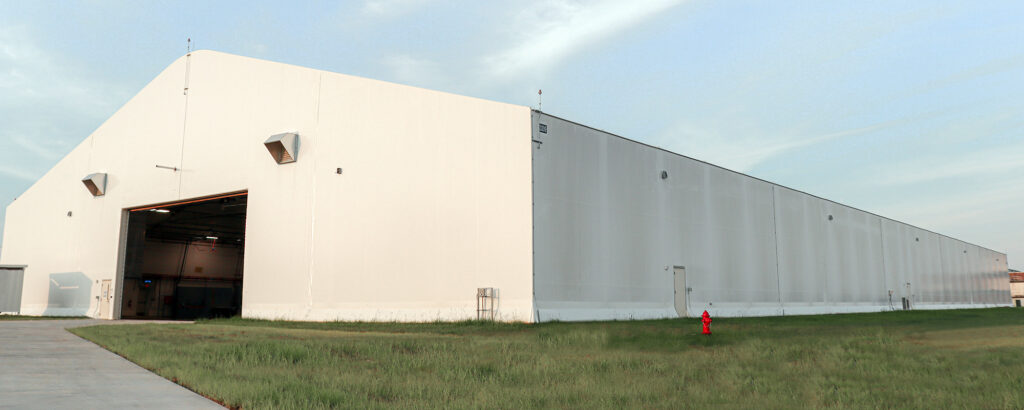 EMR Awarded 16EWS Wildcat Test Facility, Eglin AFB, FL
EMR was awarded a $26.9M contract to design and construct the 16EWS Wildcat Test Facility at Eglin AFB, FL to result in a complete and usable, single-story facility. The facility will be no less than 24,468 square feet of climate-controlled space, and will be required to have a single RF shielded secure area with lab space, engineering areas, a conference room, and equipment storage spaces. A non-secure area will be provided for the building entry, break area, and restrooms.
EMR Awarded F-35 Construct Flight Simulator, ANG Jacksonville, FL
EMR was awarded a $25M contract for the construction of a F-35 Flight Simulator for the Air National Guard in Jacksonville, FL. Work to be performed includes the construction of the 27,633 sq. ft. building with special foundations, masonry brick veneer, standing seam metal roofing, and electronic security to house 4 F-35 Flight Simulators.
EMR Awarded D/B DHS Building 78 Dormitory Renovation, Ft. McClellan, Annistion, AL
EMR was awarded a contract in the amount of $7.9M for the renovation of a dormitory in Anniston, AL. Renovations include new architectural finishes and components, structural repairs, HVAC replacement, fire protection/fire alarm system replacement as well as electrical and plumbing revisions.
EMR Awarded Hurricane Sally Recovery Package 7A, NAS Pensacola, FL
Out of five proposals, EMR was selected as the recipient of a firm-fixed-price task order in the amount of $12M to make repairs to Buildings 4149 and 646 which would include work on the roof, exterior envelope and interior repairs such as the fire alarm system, heating, HVAC, lighting and more. 
EMR Awarded Cryogenics Facility, Marine Corps Air Station, Beaufort, SC
Naval Facilities Engineering Systems Command Mid-Atlantic awarded a $10.8M contract to EMR, Inc. to construct a cryogenics facility. Included in this low-rise cryogenics facility is an administration/maintenance section, a liquid oxygen/nitrogen production section, and a covered storage area for gas cylinder storage. 
EMR Awarded Main Gate Relocation, Patrick SFB, FL
EMR was recently awarded a $12M for the Design and Construction of a main Entry Control Facility (ECF) for Privately Owned Vehicles (POV) including a visitor center, POV gatehouse with canopy and ID check stations, POV inspection facility and a POV overwatch at Patrick Space Force Base.
EMR Awarded Zone 5 CE Maintenance Shop & Storage Area, Tyndall AFB, FL
EMR was presented with a Notice of Award in the amount of $19M for the design and construction of Tyndall's Zone 5 CE Maintenance Shop & Storage Area which will result in complete and usable facilities including a base engineer maintenance shop and storage shed, base civil engineer open storage, grounds facility, and air filter storage facility.
EMR Awarded Zone 7 Munitions Storage 7000 Area, Tyndall AFB, FL
Contracted for $27.5M, EMR will embark on the design and construction of magazine storage facilities, a missile assembly shop, and renovation of multiple MSA facilities. The facilities include reinforced concrete foundation and floor slab, structural steel framing, fire suppression, masonry block and insulated metal walls, and standing seam metal roof. The facilities will include concrete walls and roofing for appropriate design to enclose weapons, with magazine and facility systems maintenance. The project includes all utilities, site improvements, pavements, detection/protection features, security enhancements and other supporting work.
EMR Awarded Munitions Maintenance Facility and Igloos, Eglin AFB, FL
EMR was awarded a $10M project to construct the Munitions Maintenance Facility and Igloos at Eglin Air Force Base in Florida. The scope of work is inclusive of, but not limited to, the construction of one multi-bay Munitions Research, Development, Test and Evaluation (RDT&E) explosive operating facility with reinforced concrete foundation and floor slab, concrete walls (internal and external) and a reinforced concrete roof deck. Functional areas will include munitions inspection and maintenance labs/bays, receiving room, parts storage, administrative offices, male and female latrines, support/tool room and mechanical equipment room.
EMR Awarded Two-Phase Design & Construction of Commercial Gate Tyndall AFB, FL
Contracted for $18M, after the design phase, EMR will get to work relocating the existing commercial gate (Entry Control Facility) to Tyndall AFB. Much of the project will consist of site work, paving, a new canopy, guard shacks, and active vehicle barriers.
EMR Awarded USACE Tennessee-Tombigbee Waterway Management Center, Columbus, MS
EMR was awarded a $9M contract for the demolition of the existing Tennessee-Tombigbee Waterway Management Center (TTWMC) facility and construction of a new facility. The new TTWMC facility will be a 2-story building located on the existing building footprint. The office complex will support approximately 53 government employees and will continue to serve as the management and maintenance headquarters for the Tennessee-Tombigbee Waterway.
EMR Awarded NAVFAC Munitions Storage Area, Barksdale AFB, LA
EMR was awarded a $14M contract to replace the water distribution mains within the Munitions Storage Area (MSA). This project will also include the replacement of all existing underground primary conductors except the existing underground emergency circuit.
If you have any questions or would like any additional information please click the button below.