Construction of Hampton Inn & Suites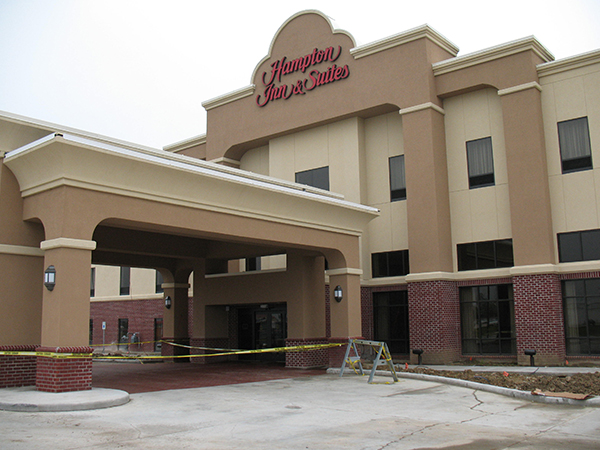 Location: New Iberia, LA
Client: MEGHA, LLC for Hilton Worldwide
EMR was the general contractor for the construction of a three-story 68,701 square foot hotel, which included 102 rooms, a swimming pool, a conference center, and a 78,545 square foot parking lot. The building was constructed in full compliance with all Hampton Inn design criteria. Wall construction was a concrete masonry unit with interior metal stud walls and pre-cast/hollow core plank decking floors. The roof was constructed EPDM flat on the main hotel and conference center with a 6,000 square foot standing seam section. 
Telecommunications consisted of phone/CAT6/multi-data line/security and cable television. The security system consisted of GNS outdoor high-resolution day/night color cameras with 520tvl and 5-50mm lens; color high-resolution indoor dome cameras with 380tvl and 12mm lens; Samsung UTP modules to make cameras work on existing CAT6 cables; 16-channel DVR with 1 terabyte hard drive, DVD burner, and network capability; 16-inch flat-screen High Definition monitors, including mounts; infrared remote kit for use of remote control in manager's office; individually fused 8-channel 24vac power supply (for exterior cameras); individually fused 16-channel 12vdc power supply (for interior dome cameras); coax video cable jumpers; and miscellaneous BNC video connectors. 
Site preparation consisted of parking space and asphalt, including 10 light poles with multi-head lighting. EMR personnel coordinated and supervised the activities of 55 local subcontractors who performed the site preparation, installation of utilities, framing, masonry, roofing, HVAC, electrical, telecommunications, and interior finishes.