Design-Build of Addition to Fire/Crash Station No. 1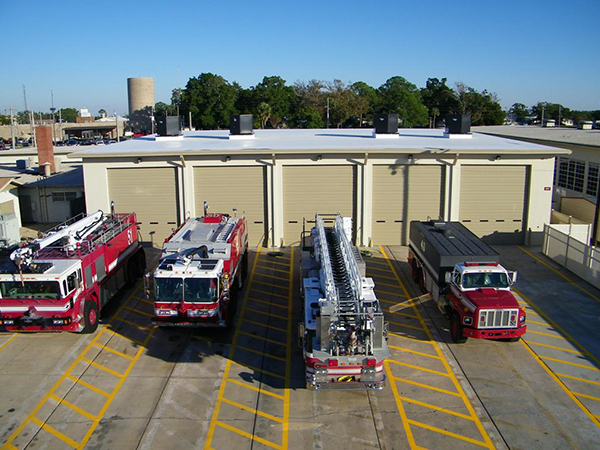 Location: Eglin AFB, FL
Client: Department of the Air Force
EMR completed an expansion/renovation of the Eglin Fire Station No. 1 apparatus bay encompassing 7,392 square feet, along with additional interior renovations to the laundry room, training rooms, restrooms, and structural bay. EMR designed and executed an addition that created a five-stall garage measuring 52 feet x 100 feet with five 15 feet wide x 17 feet high doors. 
While ensuring that all construction debris was continually removed from the flight line, precise demolition of the original roof, two main supporting walls, a storage room, and a training room were successfully completed. A custom steel roof was installed, which included a highly sophisticated ambient exhaust extraction system with heavy-duty roof fans. An advanced sensor system was installed to control the integrated louvers and fans as low levels of toxic fumes enter the area. 
An entry canopy was added to the front of the fire station, which was constructed with a split-face concrete masonry unit for continuity of design. A custom design steel truss system was manufactured for the canopy and painted to match the adjacent trim. A standing seam metal roof was attached to the custom canopy.