Renovate Lodging Facility B802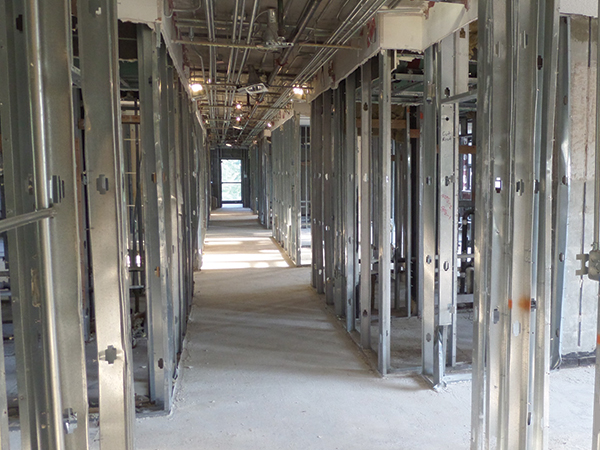 Location: Dobbins ARB, GA
Client: Air Force Reserve Command
EMR was awarded a design-build project to renovate Building 802, which is a three-story lodging facility with a concrete framed structure on a crawl space, brick façade, and vinyl roof. The facility includes 50 guest rooms, including four Distinguished Visitor Quarter (DVQ) suites, two Executive DVQ suites, and three handicapped units. 
The primary objective was to remediate mold, which had made the building uninhabitable for several months prior to the renovation, and to add an elevator in the lobby of the building. The mold remediation was accomplished with a three-fold approach including the following: (1) add outside air units to the roof and supply and returns to each room; (2) excavate the perimeter footings, add French drains and storm drains to tie downspouts into, and re-grade the site to slope away from crawl space vents around the building; and (3) remove all interior materials, including sheetrock, insulation, carpet, and interior finishes, and replace with mold inhibitive products. 
The project consisted of the demolition of the existing interiors and roof. Existing studs were salvaged and damaged studs were replaced, as necessary. New layouts were designed to include a fitness center and additional living space in the DVQ suites and Executive DVQ suites. Also included were new fire stopping, rough carpentry, hollow metal doors and hardware, painting, carpeting, resilient flooring, acoustical ceilings, wall and corner guards, signage, controls, and sodding. The building received all new LED lighting to comply with government energy efficiency requirements, as well as all new plumbing fixtures, including glass walk-in showers and whirlpool tubs in the Executive DVQ suites. Each room was equipped with a packaged terminal air conditioner unit for individual room temperature control, new cabinets, toilet accessories, marble shower surrounds, appliances, and ceramic tile in the bathrooms. A new elevator was installed inside the lobby for guest convenience and the roof was replaced with a new polyvinyl-chloride roofing system. The fire alarm and sprinkler systems, as well as all communication systems, were updated to the current code.